Product description
This product is spacious, warm and create a beautiful ambient area for entertaining and relaxing. Insulated Camping Pod can be used all year round, however the winter is when these superb buildings really come into their own.
Interior. Try camping in a high quality Insulated Camping Pod 3.2 x 4.8 m., it is ideal choice for a camping place. Pod has two rooms inside: a 2 m length sleeping room and a 2.4 m length living room with area for tiny kitchen and dining space. This Camping pod is without  60 cm deep terrace at the front. The light enters the house through a double window on the back wall and the french style double door in the front. The bedroom and living rooms are separated by a wall with the aisle, the house is open in the inside (there are no interior door separating the rooms). 

Insulation.  Wall insulation. 1 - wall made from spruce (38 mm); 2 - stone wool (50 mm); 3 - wind insulating film; 4- OSB panel (8 mm); 5 - bitumen shingles (3 mm). Panel insulation.  1 - wall made from spruce (38 mm); 2 - stone wool (50 mm); 3 - wind insulating film; 4 - wall made from spruce (12 mm). Floor insulation.  1 - floor made from spruce (28 mm); 2 - wind insulating film; 3 - stone wool (50 mm); 4 - OSB panel (12 mm).
People
4-8

persons

Timber
Spruce
Shape
Pod
Room
Two Rooms inside
Inside area
13.4

square meters

Total height
2560

mm

Floor thickness
86

mm

Wall thickness
38

mm

Insulation
50

mm stone wool

External dimension
3040 x 4800

mm

Door size
1020 x 1920

mm

Window size
925 x 950

mm
Pod made from spruce with insulated walls and floor;
Roof covered with bitumen shingles of your selected color;
One opening double window in the back wall;
Double doors with a lock and the double glass windows;
Two rooms inside:sleeping and living;
Wall partition with the entrance.
Assembling time
12

hours

Size of pallets (LxWxH)
4.9 x 1.2 x 2.6

m

Weight
1800

kg
The camping pod is delivered to a customer not assembled, but fully complete, with detailed assembly instructions and drawings, and packed on a pallet (KIT).  Weight: 1800 kg, but with furniture, the package can weigh about 2650 kg.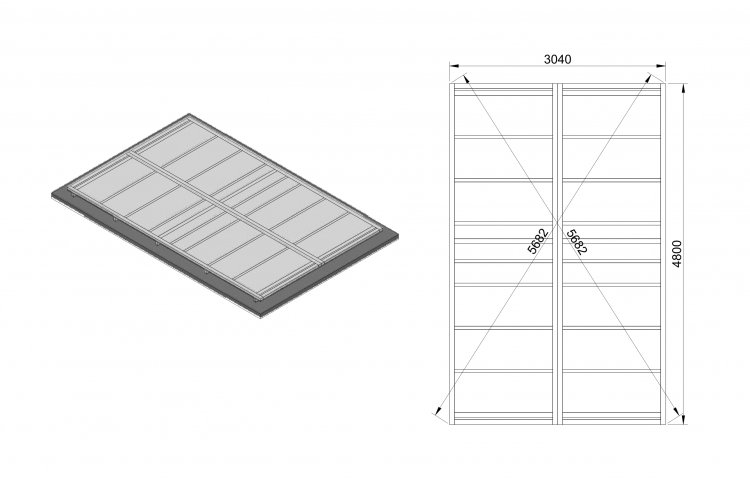 It is very important to have a proper foundation for your camping pod. Therefore we recommend making the foundation according to the sketches here. First of all, foundation must be prepared according to the landscape and ground conditions. Consult a qualified builder or an engineer to prepare a proper foundation, which fits your location. Make sure to complete the site preparation and the foundation before unpacking and assembling the camping pod. 
MAINTENANCE. As wood is a natural material, it can change through time. Cracks of various sizes, changes of the color as well as of a structure of the wood are not the errors, but a feature of wood. Natural wood (not impregnated) becomes grayish after having been left untouched for a while. Later it can turn blue and get covered with the mold. Therefore, you should immediately impregnate the wood to protect the products. We strongly recommend that you impregnate the door and windows with a wood impregnation agent both the inside and outside of them, because the doors and windows can become twisted otherwise. In general, we recommend consulting a specialist regarding the paints suitable for an unprocessed softwood and follow the instructions of paints' manufacturers. Proper painting of the camping pod will extend its lifetime. Besides that, we suggest you thoroughly inspecting the pod every six months and checking if it needs re-painting or else.
It's not advisable to paint the camping pod walls before assembling it – this is best done when the camping pod has been already assembled and when the weather is fine. However, if you wish to paint some parts in different colors, this should be done before the camping pod is assembled.
Important: In order to good rest  for your guests, it is necessary to constantly ventilate the camping pod.