Product description
The ideas are ours and the choice is yours!
Every NORDIC is a wooden handcrafted design and we believe in optimizing all our products to your requirements.
Our new model of Cube comes fully insulated and feature highly rated windows and doors, this combination of materials and features ensures usable space all year round.
We do offer some new interior and external cladding designs and your choice will have a significant impact on the appearance of the 'NORDIC' and affect the amount of ongoing maintenance your Cube will need!
Make an attractive place for staying in, a modern place for relaxation. 
Insulated frame: Insulated floor, walls and roof, 4 columns. The frames are made from glue laminated spruce beams. Frame consists of bottom frame (100 x 140 mm), columns (140 x 140 mm), top frame (140 x 220 mm) and withstands 442 kg/m2 roof load.  The top layer of floor is OSB. Built with 45 x 95 mm joists. Insulation - stone wool (100 mm).
Standard insulated full panel wall without finishing: Panel size is 1000 x 2200 mm; Wall frame 45 x 145 mm, insulation - 150 mm (stone wool). Thickness of basic segment is 145 mm.
INTERIOR SOLUTIONS
Interior Cladding standard: -
Interior Spruce Boards Cladding (option): 12 mm;
Interior Decorative wood panel wall "Décor" (option): Painted OSB 9 mm, decorative beams 28 x 45 mm; space between decorative beams 28 mm;
Interior Laminated spruce panel (option): 27 mm.
EXTERIOR SOLUTIONS
Exterior Cladding standard: -
Exterior Spruce Boards Cladding (option): 18 mm;
Exterior Aliuminum Composite Cladding (option): 4 mm;
Exterior Charred Spruce Cladding (Shou Sugi Ban) (option): 25 mm.
People
2-3

persons

Timber
Spruce
Shape
Rectangle
Inside area
12.0

square meters

Total height
2855

mm

Wall height
2205

mm

Roof thickness
145

mm

External dimension
4280 x 3280

mm

Door size
2000 x 2200

mm

Window size
1000 x 2200

mm
Insulated cube frame 4 x 3 m from spruce;
Roof covered with bitumen weld coating;
Standard insulated wall panels without finishing;
OSB flooring;
5 aluminium glass wall Reynaers;
Aluminium sliding doors system Reynaers 2 rails;
Ventilation;
Tin finishing.
Size of pallets (LxWxH)
4.4 x 1.2 x 2.6

m
Production time: 6 weeks;
Assembling: Most of our products are designed to be easily assembled by you. However, with aluminum exterior we suggest use a professional service to assemble your product. In You do not follow recommendation product, will lose it warranty.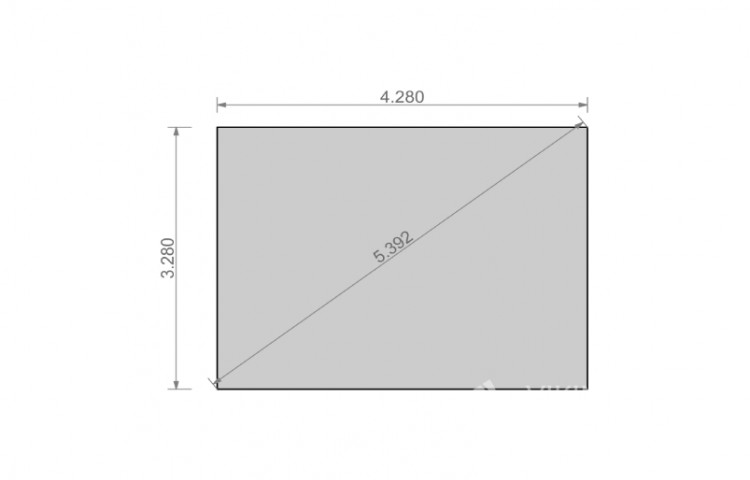 It is very important to have a proper base for your Cube NORDIC. Therefore, we recommend following our sketches and consulting a qualified local builder or engineer. Making sure that the base for your product fits the location is of utmost importance.
Due to an improper base, the structure may crack. If the product is unevenly seated, the geometric shape of the building may change, which can result in the door/windows twisting, and/or gaps. In the worst-case scenario, the product may even collapse.
Before building the base, make sure you take into account the landscape and the ground conditions on which the product will stand. 
The base under the product must be prepared specifically for the Cube.
The base must be homogeneous, tight and level. 
Make sure that the properties of the base do not change over time. We recommend making the base out of concrete and water-proofing it before installation. 
If you do not follow recommendations for building the base, the product will lose its warranty!
Maintenance. As wood is a natural material, it can change through time. Cracks of various sizes, changes of the color as well as a structure of the wood are not the errors, but a feature of a wood. Natural wood (not impregnated) becomes grayish after having been left untouched for a while. Later it can turn blue and get covered with the mold. Therefore, you should immediately impregnate the wood to protect the products.
In general, we recommend consulting a specialist regarding the paints suitable for an unprocessed softwood and follow the manufacturers' of paints instructions. Properly painting the cube will extend its lifetime. Besides that, we suggest you thoroughly inspecting the cube every six months and checking if it needs repainting or else. It's not advisable to paint the cube before assembling it – this is best done when the cube has been already assembled and when the weather is fine.