Product description
Frame. The frames are made from glue laminated spruce beams. Frame consists of bottom frame (140 x 100 mm), columns (140 x 140 mm), top frame (140 x 240 mm) and withstands 470 kg/m2 roof load.
The Floor. The floor is made of 146 x 28 mm floor boards.
The roof. The roof is made from 12 mm two glass sheets, it's size is 3280 x 3280mm and it weights 440kg. Two glass sheets are connected with special connecting profile system.
 
People
6

persons

Timber
Spruce
Shape
Rectangle
Room
One Room inside
Inside area
9.0

square meters

Total height
2555

mm

Floor thickness
28

mm

Roof thickness
12

mm

External dimension
3286 x 3286

mm
Garden cube frame from spruce;
Glass roof;
Wooden floor.
Assembling time
3

hours

Size of pallets (LxWxH)
1st pallet - 3.4 x 1.2 x 1.5 and 2nd pallet - 3.4 x 1.2 x 1.5

m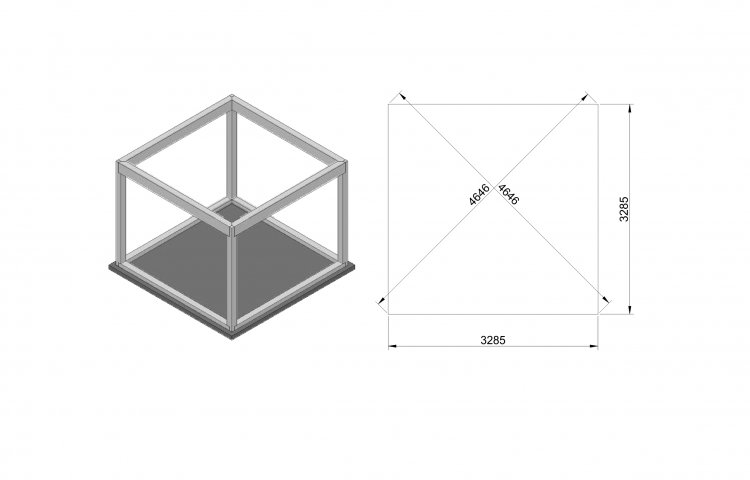 It is very important to have a proper foundation for your Garden Cube with glass roof 3 x 3 m. Therefore we recommend making the foundation according to the sketches here. First of all, foundation must be prepared according to the landscape and ground conditions. Consult a qualified builder or an engineer to prepare a proper foundation, which fits your location. Make sure to complete the site preparation and the foundation before unpacking and assembling the Garden Cube with glass roof 3 x 3 m.
Maintenance. As wood is a natural material, it can change through time. Cracks of various sizes, changes of the color as well as a structure of the wood are not the errors, but a feature of a wood. Natural wood (not impregnated) becomes grayish after having been left untouched for a while. Later it can turn blue and get covered with the mold. Therefore, you should immediately impregnate the wood to protect the products.
In general, we recommend consulting a specialist regarding the paints suitable for an unprocessed softwood and follow the manufacturers' of paints instructions. Properly painting the cube will extend its lifetime. Besides that, we suggest you thoroughly inspecting the cube every six months and checking if it needs repainting or else. It's not advisable to paint the cube before assembling it – this is best done when the cube has been already assembled and when the weather is fine.