Product description
Viking Cube frame from spruce: insulated floor and roof panels, 4 columns. Insulation - stone wool (50 mm). The frame is made from glue laminated spruce beams. Frame consists of bottom frame (100 x 140 mm), columns (140 x 140 mm), top frame (140 x 240 mm) and withstands 442 kg/m2 roof load. The floor is made of 146 x 28 mm floor board.
Aluminium 2-rails sliding door system with locks "Reynaers" (2000 x 2200 mm). Design depth is 50 mm for wings and 120 mm for frames double ground ways and 184 mm for triple ground ways frames. Air tightness: up to 600 Pa (class 4); Water tightness: up to 300 Pa (class 7A); Wind load resistance: up to 1600 Pa (class 4); The thickness of the glass packet: 24 mm; Thermal mold: 1.1 W/(m2 K); System profile frame: 45 mm; Color: metallic/white. Sliding doors in both directions.
Insulated full panel wall. Panel size is 1000 x 2200 mm; Wall frame 45 x 45 mm, insulation - 50 mm (stone wool), panel covered with inside 96 x 12 mm and outside 145 x 18 mm spruce cladding boards. Thickness of the finished wall segment is 75 mm. 
Decorative sunscreen wall with glass package. Wall panel dimensions are (1000 x 2200 mm); Wall frame 75 x 45 mm, horizontal sunscreen wall consists of 18 x 50 mm boards with glass package of one chamber (2 glasses).
The walls, floor and roof of our Cube Mans Cave Cubes are all insulated to lower energy costs. We use stone wool to insulate for this reason: fire resilience, thermal properties, acoustic capabilities, durability, aesthetics, water properties, circularity. We include all of the screws, nails and fixings needed to put your building together! So there's no need to worry about the type of screws, or length of nails etc you might need to get started, it's all there in the pack!
People
2-3

persons

Timber
Spruce
Shape
Rectangle
Room
One Room inside
Inside area
12.0

square meters

Total height
2780

mm

Wall height
2200

mm

Floor thickness
128

mm

Roof thickness
145

mm

Exterior Cladding
18

mm

Interior Cladding
12

mm

Wall thickness
75

mm

Insulation
50

mm stone wool

External dimension
3286 x 4286

mm

Door size
2000 x 2200

mm

Window size
1000 x 2200

mm
Insulated cube frame 3 x 4 m from spruce;
Insulated floor (spruce) and roof panels;
Roof covered with bitumen weld coating (4 panels);
11 standard insulated panel walls;
1 decorative sunscreen wall with glass package;
Aluminium sliding doors system Reynaers 2 rails.
Assembling time
6

hours

Size of pallets (LxWxH)
4.4 x 1.2 x 2.6

m
Mans Cave Cube 4 x 3 m is delivered to the customer not assembled, but with detailed assembly instructions and drawings, and packed on a pallet (KIT).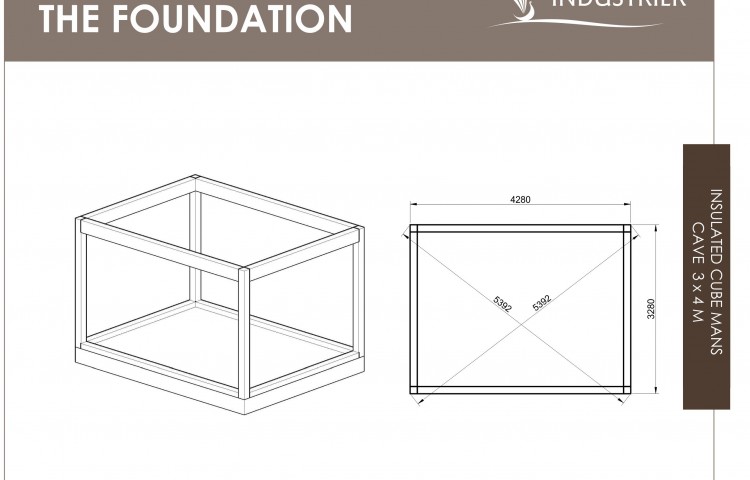 It is very important to have a proper foundation for your Cube. Therefore, we recommend making the foundation according to the sketches. First, foundation must be prepared according to the landscape and ground conditions.
The foundation under the product must be prepared specially, it must be homogeneous, tight and equal. It must be ensured that it will not change its properties. We recommend using concrete foundation. Before installation of product, we recommend to make hydro isolation of foundation.
Consult a local qualified builder or an engineer to prepare a proper foundation, which fits to your location. Due to improper foundation, cracks in the structures may occur. Due to uneven product seating, the geometric shape of the building may change, which can result in door / window twist, or/and gap may appear. And in the worst-case building's collapse.
If you do not follow foundation recommendation, product will lose its warranty!
You should not forget that wood is a natural material, it changes move depending on weather conditions.  Large and small cracks, color tone differences and changes, as well as a changing structure of wood are not errors, but a result of wood growing and a feature of wood as a natural material. Natural wood (not impregnated) becomes grayish after having been left untouched for a while and can be turn blue and become moldy. You should immediately process them with wood impregnations to protect the wooden details of our produced products. 
If necessary, outside doors must be adjusted by the customer;
If you do not use your Product often we highly recommend to use the installation of our vent to stop condensation;
If you find a sap pocket open during the life of your Product - you can allow it to dry naturally and then cut the sap off with a blade. 
As always, The main rule is - ENJOY!