Product description
Now it's possible to have a permanent residence during the year-round standard - perfect as a guest house – rental or first house for young people.  Our Loft House 24 m2 you can use as guest cottage, permanent residence or something else that fits your lifestyle. Entire 24 m2 meters plus loft with a place for a functional kitchen. In addition, you get one spacious living room (20.9 m2), a lovely mezzanine bedroom (11.5 m2) and one bathroom (2.9 m2). The loft it's accessed by a fixed ladder with deep stair-like steps. Large windows and generous ceiling height provides light and space that make the house feel significant larger than its 24 m2. 
The frame is made from glue laminated spruce beams. Frame consists of bottom frame (100 x 140 mm), columns (140 x 140 mm), top frame (140 x 140 mm) and withstands 180 kg/m2 roof loads.  Roof: 4.81 m high / 15% slope.  Inside height until loft: 2500 mm.
Exterior walls, roof and floor are insulated with 50 mm thick stone wool. The wall elements inside (for shower room) not insulated, 70 mm thick. There are 12 windows in the Loft House.
Windows  for 1st floor: 2 wooden tempered glass windows (the size of windows - 500 x 500 mm, the thickness of brown tinted glass is 6mm). One of  these 2 windows is opening; 4 wooden tempered glass windows (the size of windows is 855 x 2100 mm and the thickness of glass is 8 mm. 
Windows  for 2nd floor: 1 wooden tempered glass window (the size is 855 x 1800 mm, the thickness of glass is 8 mm); 3 wooden tempered glass windows (the size is 855 x 1548 mm, the thickness of glass is 8 mm); 1 wooden tempered glass window (the size is 855 x 1013 mm, the thickness of glass is 8 mm); 1 opening wooden tempered glass window (the size of window is 500 x 1000 mm, the thickness of glass is 6 mm).
Doors. Wooden outside door of size 900 x 2100 mm. Outside aluminum 2-rails sliding door system Reynaers 2000 x 2200 mm. Wooden inside shower room door of size 800 x 2100 mm.
Timber
Spruce
Shape
Rectangle
Room
One Room inside
Inside area
24.0

square meters

Total height
4808

mm

Floor thickness
95

mm

Roof thickness
70

mm

Exterior Cladding
18

mm

Interior Cladding
12

mm

Insulation
50

mm stone wool

External dimension
4219 x 6260

mm

Door size
900 x 2100

mm

Terrace
2500 x 4219

mm
Loft House frame from spruce;
Insulated roof panels with bitumen weld coating;
Insulated wooden floor;
25 standard insulated full panel walls;
2 insulated full panel walls with small windows (1 of them is opening);
10 wooden tempered glass walls;
Aluminum 2-rails sliding door system Reynaers 2000 x 2200 mm;
Wooden door with a lock and a tempered glass window;
Shower room wooden door;
Rainwater pipes;
Ventilation;
Wooden fence for mezzanine floor;
Wooden stairs;
Terrace made from corrugated spruce wood with frame;
Different spaces: sitting room, shower room and mezzanine style loft.
Delivery: from 12 weeks. Mini House 24 m2 is delivered to the customer not assembled, but with detailed  assembly instructions and drawings packed on a pallets (KIT).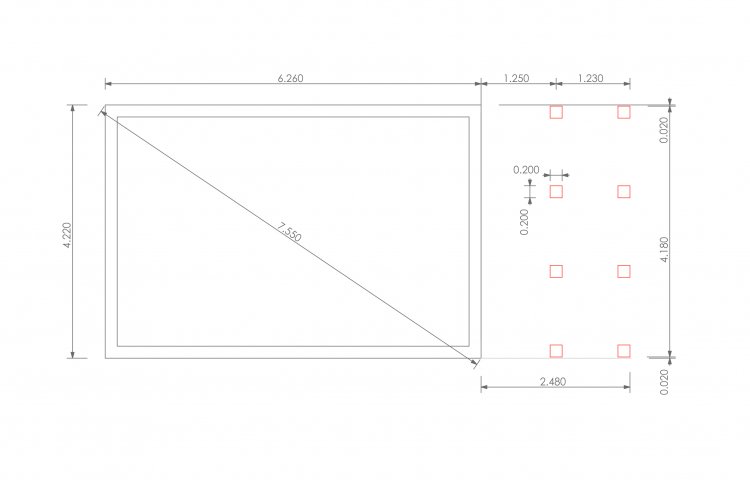 It is very important to have a proper foundation for your Loft House 24. Therefore we recommend making the foundation according to the sketches here. First of all, foundation must be prepared according to the landscape and ground conditions. Consult a qualified builder or an engineer to prepare a proper foundation, which fits your location. Make sure to complete the site preparation and the foundation before unpacking and assembling the House.
MAINTENANCE. You should not forget that wood is a natural material, it change move depending on weather conditions. Large and small cracks, color tone differences and changes, as well as a changing structure of wood are not errors, but a result of wood growing and a feature of wood as a natural material. Natural wood (not impregnated) becomes grayish after having been left untouched for a while, and can be turn blue and become moldy. You should immediately process them with wood impregnations to protect the wooden details of our produced products.
We definitely recommend that you process the door and windows with a wood impregnation agent, and do it namely both inside and outside, because the doors and windows can become twisted. In general, we recommend for the conclusive finishing a weather protection paint that will protect wood from moisture and UV radiation after the house is assembled. Consult a specialist regarding paints suitable for unprocessed softwood and follow the paint manufacturer's instructions. Your grill cabin life time will be much longer after having properly painted. We recommend that you inspect the house thoroughly once every six month.