Product description
The frames are made from glue laminated spruce beams. Frame consists of bottom frame (100 x 140 mm), columns (140 x 140 mm), top frame (140 x 240 mm) and withstands 442 kg/m2 roof load.
The walls. The 1000 x 2200 mm walls are made of spruce wood from FSC-certified spruce forests of Northern Europe. The light, golden-white spruce are ideal for Cubes constructions designs. Insulated full panel wall. Wall frame 75 x 45 mm, panel covered with inside 96 x 12 mm and outside 145 x 18 mm horizontal spruce cladding boards. Decorative sunscreen wall. Wall frame 75 x 45 mm, horizontal sunscreen wall consists of 18 x 95 mm boards. Wooden tempered glass wall. Wall frame 75 x 45 mm with full tempered glass window.
The roof. The roof panels are built with double rafters construction and covered with 18 x 145 mm finishing boards. This construction withstands 442 kg/m2. All Viking cube buildings roof are 2.7 m high and 1.310 (2.29%) slope. We use an hydro-insulating SBS to ensure the highest level of waterproofing. It is produced in two types: surfaced with quartz sand - for the bottom layer of the roofing and surfaced with slate that ensures perfect UV-protection – for the top hydro insulating protective layer of the roofing for cube roofs.
Inside sauna: 2 sauna benches 500 x 2136 mm (W x L) is made from deciduous wood; Sauna room volume is 17 m3. The Inner glass door is from from tempered brown tinted glass. Doors size is 620 x 1800 mm, the thickness of tempered glass is 8 mm. The external door of sauna is 819 x 2032 mm (from spruce) with large tempered glass windows and lock. 
People
2-4

persons

Timber
Spruce
Shape
Rectangle
Room
Two Rooms inside
Inside area
6.0

square meters

Sauna area
4.0

square meters

Total height
2780

mm

Floor thickness
28

mm

Exterior Cladding
18

mm

Interior Cladding
12

mm

Wall thickness
75

mm

Insulation
50

mm stone wool

External dimension
2286 x 3286

mm

Door size
817 x 2035

mm

Interior tinted glass door
620 x 1800

mm

Window size
1000 x 2200

mm
Garden cube frame from spruce;
Wooden floor (from sprue);
Roof covered with bitumen weld coating (black);
2 wooden tempered glass walls;
7 insulated full panel walls;
1 decorative sunscreen walls with tempered glass;
Insulated roof panels;
Sauna benches from deciduous wood;
Heat-resistant plates for the heater/stove;
Wooden external door with windows;
Inside tempered glass doors;
Two spaces inside: a sauna room and a changing room.
Assembling time
7

hours

Size of pallets (LxWxH)
3.4 x 1.2 x 2.6

m

Weight
1680

kg
Sauna cube 2 x 3 m with changing room is delivered to the customer not assembled but with detailed assembly instructions and drawings, and packed on a pallet (KIT).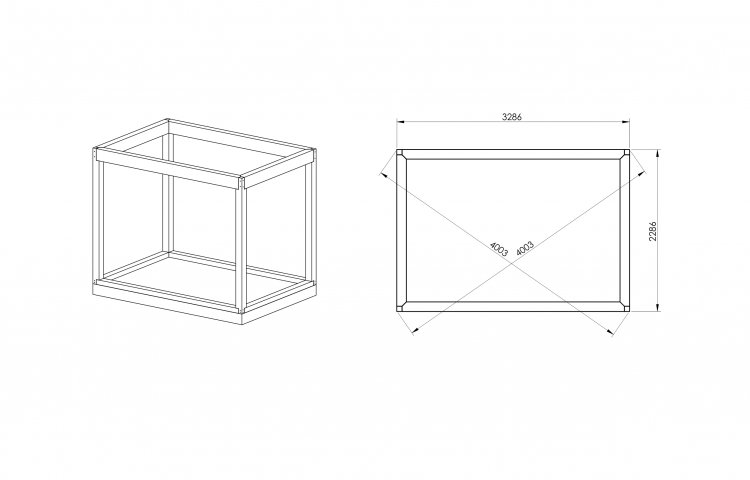 It is very important to have a proper foundation for your sauna. Therefore we recommend making the foundation according to the sketches here. First of all, foundation must be prepared according to the landscape and ground conditions. Consult a qualified builder or an engineer to prepare a proper foundation, which fits your location. Make sure to complete the site preparation and the foundation before unpacking and assembling the sauna cube 2 x 3 m.
* - The rainwater pipe package includes straight gutter and all parts needed for installation. Down pipe package includes 2.5 m down pipe and all parts needed for installation. No need for exact measurements and calculations and easy to transport and install, as all components needed are packaged compactly in a single package, ensuring safe delivery and easy installation. 
*** - Available for all Sauna Cube with changing rooms and all Viking Cubes. These lamps are not available in the sauna room.
USAGE. Saunas typically take 30-40 minutes to heat up. The rec­ommended temperature is 80-90º C. The thermometer should be located at head level in the sauna. It should be located away from the heater or the door so it will not give a false reading.
Enjoy the many health benefits of relaxing heat in your own Sauna Barrel just remember that staying in the hot Sauna for long periods of time makes the body tempera­ture rise, which may be dangerous. The recommended time inside a Sauna Barrel is from 10 to 15 minutes. Take a five-minute break and then repeat. Also you should keep safety instructions and keep away from the stove when it is hot.
Never throw water on the stones when there are people near the stove, because hot steam may burn their skin. Be very careful when moving in the Sauna, as the benches and floors may be slippery. Do not hang clothes to dry in the Sauna, as this may cause a risk of fire. Also check your body for any metal (jewelry and zippers, for example) in order to prevent it from burning your body when it quickly heats up in the facility. We strongly recommend shouldn't use the Sauna to pregnant women and neither should young children.
MAINTENANCE. As wood is a natural material, it can change through time. Cracks of various sizes, changes of the color as well as a structure of the wood are not the errors, but a fea­ture of a wood. Natural wood (not impregnated) becomes grayish af­ter having been left untouched for a while. Later it can turn blue and get covered with the mold. Therefore, you should immediately impregnate the wood to protect the products.
We strongly recommend that you impregnate the door and windows with a wood impregnation agent both the inside and outside of them, because the doors and windows can become twisted otherwise. In general, we recommend consulting a specialist regarding the paints suitable for an unprocessed softwood and follow the manufacturers' of paints instructions. Properly painting the Sauna Barrel will extend its lifetime. Besides that, we suggest you thoroughly inspecting the Barrel every six months and checking if it needs re-painting or else.
It's NOT advisable to paint the sauna walls before as­sembling it – this is best done when the sauna has been already assembled and when the weather is fine. However, if you wish to paint some parts in different col­ors, this should be done before the sauna is assembled.